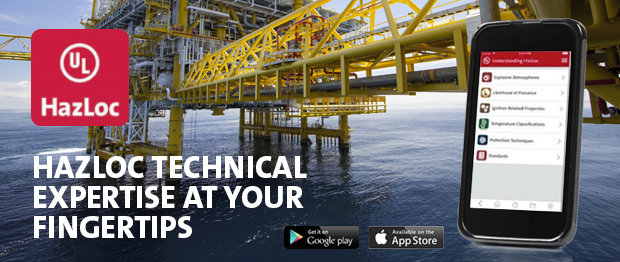 UL Mobile App – Global HazLoc Technical Expertise at Your Fingertips
New UL App provides installation principles applicable to explosive atmospheres for the Hazardous Locations industry.
To facilitate a common understanding of global hazardous locations (explosive atmospheres) for industry stakeholders, UL's mobile App benefits designers, manufacturers, distributors, inspection & regulatory authorities, and end-users across oil & gas, chemical, agricultural, pharmaceuticals, offshore, and mining industries.
This one comprehensive source for installation principles includes the following attributes:
Types of explosive atmospheres
Likelihood an explosive atmosphere is present
Ignition-related properties of explosive atmospheres
Temperature classifications based on maximum surface temperatures
Methods of explosion protection regarding electrical and non-electrical risks of ignition
Markings required by both standards and by national or regional regulations
National, regional and international standards, including a "Find Your Standard" feature based on the selection of five simple data points
Ingress protection (IP) codes and Type ratings for equipment enclosures
Download the UL HazLoc App for free using:
Contact us for more information or to talk to one of our team about how UL can help you make sure your product is ready for use in a hazardous location.
*The Apple logo and iTunes are trademarks of Apple Inc. Android, Google Play and the Google Play logo are trademarks of Google Inc.