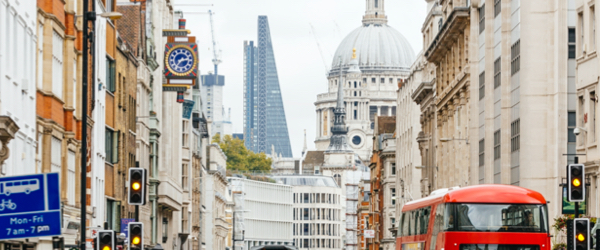 United Kingdom – Brexit
Brexit's status and market access implications
Staying abreast of market entry requirements is more important than ever as the regulatory landscape in the U.K. and EU continues to evolve rapidly. Here's what we know today:
Following the United Kingdom's (U.K.) departure from the European Union (EU) on Jan. 31, 2020, the EU and U.K. jointly agreed on a transition period that will end on Dec. 31, 2020. During the transition, the U.K. maintains status-quo for businesses and consumers, which means that the EU still recognizes U.K. notified bodies, and manufactures can sell CE marked products into the U.K. market until Dec. 31, 2020.
The EU and U.K. are negotiating a free trade agreement for 2021 and beyond; however, the negotiations are still in progress with an unofficial deadline of October 15 to provide enough time for the European and British parliaments to ratify the agreement before the transition period ends.
We are closely monitoring the Brexit transition and you can count on us to share the most current insights to help you better manage product certifications in uncertain times.
The UKCA marking
| | |
| --- | --- |
| | The new UKCA (UK Conformity Assessed) marking declares that the product conforms to all applicable U.K. legislative requirements and that appropriate conformity assessment procedures have been successfully completed. Beginning Jan. 1, 2021, the UKCA marking will replace the CE marking as a requirement for goods entering the Great Britain market, including England, Scotland and Wales. The UKCA marking will be required on products subject to the U.K. equivalent legislation to all the EU Directives/Regulations that required CE marking, including the Radio Equipment, EMC and Low Voltage Directives. Additionally, all U.K.-based EU Notified Bodies will also lose their status on Jan. 1, 2021. All EU Certificates issued by those bodies must be transferred to an EU 27 Notified Body by Dec. 31, 2020 to ensure continued validity. |
UKCA marking implementation and transition
The UKCA marking will apply to most goods currently subject to the CE marking (products covered by the following Directives/Regulations, e.g., LVD, EMCD, GAR, Machinery, ATEX, RoHS and RE-D). The UKCA marking can be used from January 2021. However, to allow businesses time to comply with the new requirements, CE marking can still be used until Jan. 1, 2022, provided that the requirements for the EU and U.K. legislation will continue to be the same.
Starting Jan. 1, 2022, the U.K. Government will no longer recognize the CE marking for Great Britain market access. Products bearing both the CE marking and UKCA marking will be acceptable as long as they comply with the relevant U.K. rules. The UKCA marking will need to be used immediately after January 1, 2021, if the product is only marketed in Great Britain and is covered by legislation that requires the UKCA marking and mandatory third-party intervention of a UKCA Approved Body.
For Northern Ireland, the CE marking will continue to be the conformity assessment marking for most goods. Manufacturers may also need the UK(NI) marking if selecting U.K. Approved Bodies for approvals or certification. Harmonized goods carrying only the UKCA marking will not be allowed in the Northern Ireland market.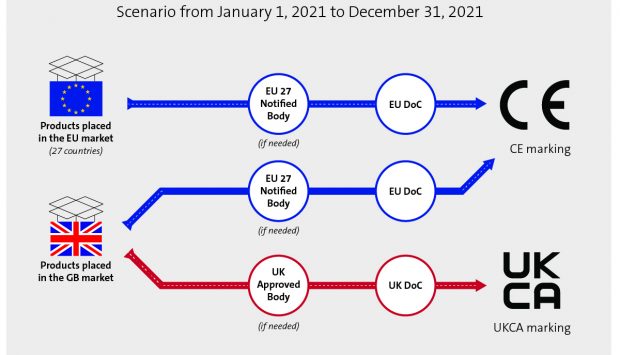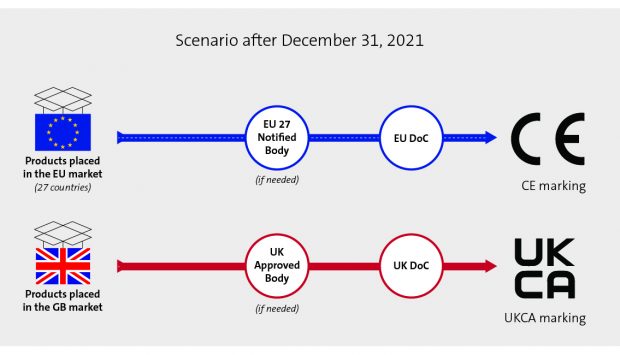 Trust UL to help you bring products to the UK and EU markets
We have the global reach and unmatched expertise to support your market access needs during every step of the Brexit transition. We combine trusted testing and certification, global scope and localized knowledge with real-time market expertise to help you reach your target markets.
Product areas covered by the UKCA mark
Civil explosives*
Construction products*
Gas appliances
Low voltage electrical equipment
Lifts
Marine
Machinery
Measuring instruments
Medical devices*
Non-automatic weighing instruments
Personal protective equipment (PPE)
Pressure equipment
Radio equipment
Rail interoperability*
Recreational craft and personal watercraft
Simple pressure vessels
Toys
ATEX
EMC Directive
Restriction of hazardous substances
Outdoor noise
Ecodesign
Aerosols
*Additional requirements apply for these product types
Contact us to get clear insights for your business.
On-demand webinar | Brexit – New Compliance Regulations

Gain insights about the new upcoming regulatory changes for UK market access – the UKCA (United Kingdom Conformity Assessed mark – which will come into effect on 1 January, 2021.